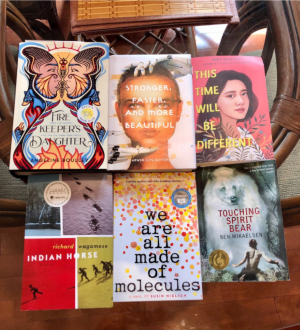 A few years ago, I began to think about my reading choices with and for my students regarding class novels. I have always felt torn between wonderful classics and exciting contemporary books. I suppose the influence of classic literature in my life has previously guided me, but the honest feedback from students and younger colleagues has confirmed what my inner voice has been whispering all along: it was time for a change.
Of course the world around me and student learning has definitely changed. So, in this spirit, I spent my summer reading a few YAL books and this is what I personally experienced on the level of a personal response.
If you're moved by similar questions regarding reading, below are some recommendations for further exploration:
Fire Keeper's Daughter by Angeline Boulley
Recommendation: Secondary 4-5
A Nancy Drew style mystery, with strong female characters. Indigenous hardships and racism, violence against Indigeous women, generational trauma, addiction, feminism are just a few of the topics covered. Published in 2021 Preview (496 pages)
Stronger, Faster and More Beautiful by Arwen Elys Dayton.
Recommendation: Secondary 4-5
Six short stories linked by a big question: What does it mean to be human/ What makes you human? Genetic modifications become greater as the six short stories move the reader into a terrifying dystopic future and a global pandemic. Published in 2018 Preview (368 pages)
This Time Will Be Different by Misa Sugiura.
Recommendation: Secondary 3-4
This is a coming-of-age story. The story addresses issues of Asian Hate, Japanese Internment, LGBTQ+ characters, blended families, activism, and abortion. Published in 2019 Preview (416 pages)
Indian Horse by Richard Wagamese.
Recommendation: Secondary 2-3
The beautiful, haunting and heartbreaking journey of a narrator looking back at his life through the traditional values of his Indigenous culture, residential schools, his love of hockey, and healing and reconciliation. Topics include abuse and generational trauma. Published in 2012 Preview (221 pages)
We Are All Made of Molecules by Susin Nielsen.
Recommendation: Secondary 2-3
Two teen narrators who have become a blended family and represent social status stereotypes, struggle with inclusiveness and popularity. Topics include bullying, sexual assult, student activism, LGBTQ+ struggles, and parental death. Published in 2015 Preview (336 pages)
Touching Spirit Bear by Ben Mikaelsen.
Recommendation: Secondary 2-3
Story of a troubled teen who has anger issues and is in trouble with the law after viciously attacking and injuring a fellow student. His healing process, instead of a criminal sentence, involves Indigenous medicine, cultural philosophy and living alone on an island for one year. Published in 2001 Preview (256 pages)
If our goal is to create lifelong readers, then perhaps the books that are compelling to read should be the guide for our choices. Happy reading!