2021-2022 Abigail Anderson recipients: Jessica Hand and Lise Kuhn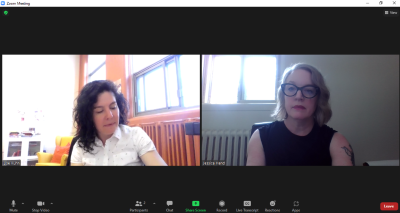 This year's recipients of the Abigail Anderson Award are Jessica Hand and Lise Kuhn, ELA teachers in the EMSB Outreach system. Lise and Jessica also volunteer their time to serve on the 2021-2022 ATEQ Executive.
Their commitment to the ELA community is longstanding: Jessica and Lise have worked tirelessly to celebrate and promote the knowledge of ELA teachers. Their outstanding work in organizing professional PD for teachers during an especially challenging time demonstrates their understanding of the kind of support that works best for busy teachers. 
Despite facing numerous challenges with regards to delivering the 2022 edition of ATEQ's annual Springboards conference, Jessica and Lise organized and delivered one of the best lineups in years, offered fully on demand to suit teachers' current needs. Jessica and Lise have also been integral to the design of ATEQ's new website and its teaching resources. They are currently working on plans for 2022- 2023 that include an ATEQ book club and several workshops at the 2022 QPAT conference. 
Committed to pursuing official recognition of ATEQ by the Quebec Ministry of Education, including the federal funding to which it is entitled, Jessica and Lise have also been working in coordination with other Quebec professional teacher associations to secure fair and recurring funding, since most have no stable source of funding to carry on their important work.
The ATEQ Board wishes to congratulate Jessica and Lise for receiving the Abigail Anderson Award and to sincerely thank them for the ideas, energy, innovation and inspiration they bring to their work in schools and within ATEQ. 
---
About the Abigail Anderson Award: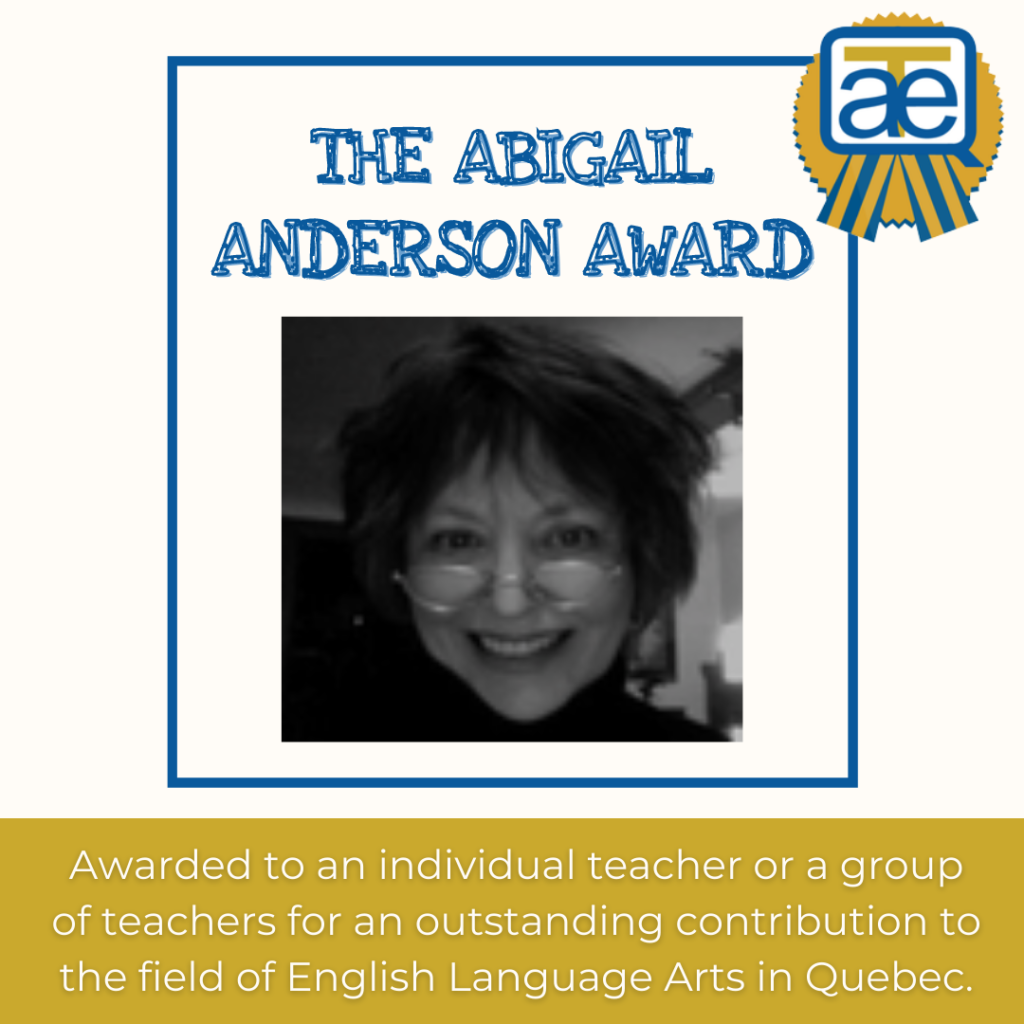 Abigail Anderson is an outstanding Quebec educator and pedagogue. She began her career as a high school ELA teacher and replaced Marjorie Gawley as the Coordinator of ELA Programmes at Quebec's Ministry of Education. In the twenty seven years that she held that position, she used her networking skills and intuition to set up a community of teachers to make classroom knowledge and practice valued and shared. She has always believed in the grassroots power of teachers working together, of transparency in terms of the policy and protocol at the Ministry, and of the importance of encouraging professionalism in teaching: whether it be to read professional books, to attend conferences, and/or to be involved with ATEQ or other committees at the school or provincial level. According to Ms. Anderson, the professionalism of teachers is defined by their commitment to their students and their professional growth and development. To that end, she has guided teachers in the development of the Teachers Teaching Teachers series, spearheaded numerous classroom-based projects around the province such as The Rainbow of Dream series, supported the educational programmes offered by Blue Metropolis and, most importantly, directed a team and collaborated with them to produce the three ELA programmes for the QEP as well as the the Progressions of Learning, cited for their excellence by the Superior Council of Education.
This award goes to an individual teacher or a group of teachers for an outstanding contribution to the field of English Language Arts in Quebec. The individual or group may not be particularly well known, but may have been working quietly and steadily to encourage different facets of English Language Arts education. We invite you to make these efforts known so that those individuals directly involved may be recognized and honoured.
Submit a Nomination