Spring has sprung and we've been reading new and old YA favourites for #YApril! After all, what better way to enjoy those longer daytime rays and warmer temperatures than with a stack of page-turning YA reads? To get you started on your next TBR pile, here's a short list of some of the best and brightest from #YApril (for more titles, head over to our Facebook or Instagram pages).

Darius the Great is Not Okay by Adib Khorram
Darius Kellner is about to take his first ever trip to Iran to meet his maternal grandparents. He expects to feel awkward and out of place, especially since his Farsi could use some work. What he doesn't expect is to meet and befriend Sohrab, a neighbourhood boy who is close with his grandfather. Khorram's novel explores themes of identity, mental health, friendship, family, masculinity, and place. Darius, Sohrab and the entire Kellner clan are sure to stay with you long after you've turned the last page!
Why we loved this title: The honesty, beauty, and complexity of Darius and Sohrab's friendship is beautiful, and a feature not often at the centre of YA
---

Scythe by Neal Shusterman
Scythe is a perfect blend of action and character, where questions of mortality, greed, and ambition are spotlighted for the reader. Citra and Rowan have been chosen as Scythes – those whose job it is to end lives in a world where there is no disease or death. Both central characters struggle with this role and with mastering how and why to end a life.
Why we love this title: This book has it all: suspense, heart, BIG questions, and lots of places where the reader is encouraged to stop and think, 'What would I do?'
---

The Loneliest Girl in the Universe by Lauren James
Romy Silvers is the last person alive on a spaceship travelling to a new planet to establish a new home base for humanity. Suddenly, Romy begins receiving communication from J, a similarly lonely boy who is on a ship travelling in her direction. James' novel is a romance unlike any other, where the reader is left in suspense and wanting to read more and more until the mystery of J – his whereabouts and purpose – are revealed.
Why we love this title: A true page-turner and a great option for reluctant readers who enjoy romance. Romy's voice is authentic and the reader is likely to fall for J – and all of the surprises in store – just as Romy does
---

Freaky Green Eyes by Joyce Carol Oates
For upper high school readers, this novel explores themes of domestic violence and the cult of celebrity through the story of Franky Pierson and her picture-perfect family that harbors terrible secrets. When Franky's mother disappears, she must come to terms with her father's role in it. Franky's alter-ego, Freaky, helps her break through denial to unearth the truth and gain the strength to face hard truths about her family.
Why we love this title: It's full of suspense and tension as Franky musters the courage to come to terms with her family secrets and take control of her own narrative.
---

The Black Flamingo by Dean Atta
A coming-of-age story about the difficulties and rewards of being true to yourself. Michael is a gay mixed-race teen in London. Told in verse, Atta's novel is beautifully lyrical and will have the reader pause in place over and over again at the searing truths beneath the page.
Why we love this title: A wonderfully beautiful and honest novel for any classroom library. All readers, regardless of their identity, will find pain and pride in Michael's story. ​
---

​The Belles by Dhonielle Clayton
Set in a dystopian future, Belles are tasked with making people beautiful. Camelia is a Belle who wants to be the court favourite, but will she win over the queen?
Why we love this title: Set in the beautiful kingdom of Orleans, Clayton gives us French flair in a dystopian YA novel.
---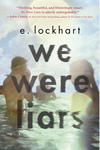 We Were Liars by E. Lockhart
This riveting psychological thriller follows the story of Cadence and the fate of her aristocratic family. Cadence spends every summer on her family's private island with her aunts and cousins. When she turns fifteen, she falls in love and not long after, strangely loses her memory after a head injury. Her eventual realization about what transpired that summer is shocking and reveals the destructive nature of entrenched prejudice. Cadence must come to terms with the mistakes she has made that have had disastrous consequences for her family.
​Why we love this title: It is a beautifully mysterious thriller with a heart-breaking conclusion that explores themes of identity, privilege and the psychological toll that affluence can have on a family.
---

After The Fire by Will Hill
What is it like to live in a cult? To be governed by the wishes of one seemingly almighty presence? Hill's novel captures the fear, loneliness, and confusion that comes with a life lived in a cult. This novel is a great blend of mystery, drama, and action and will have the reader hooked and wanting to know more right from the start.
Why we love this title: I love how this book starts – right in the action, right from page one.