Contests

The Quebec Writers' Federation (QWF) Literary Prize for Young Writers

 will be 

awarded to 

an emerging writer who is a resident of Quebec and who is between 16 and 24 years old, inclusively

, as of June 15, 2018, the contest deadline. 

The prize will be awarded for the best 

short story, poem, or work of non-fiction written in English and published in an official literary publication in 2017

. Work may be submitted either by the author or by the journal in which the submission was published, and there is no limit to the number of submissions per publication or writer.

 All work submitted must be the final, published version.

 
CBSC's The First Page

Creative Writing Contest

​Imagine Canada's future 150 years from now and write the first page of a novel!


CBC Writes – Shakespeare Selfie contest




"

Shakespeare took selfies all the time—but instead of a camera, he used a quill. And instead of calling them "selfies," they were called "soliloquies."




The theme will be based on current events. There is an early bird special for teachers. 
The Family Treas





ures





Essay Competition

combines the English Language Arts program with that of History and Culture as a project through which students can discover and explore their own sense of self, their family's history, as well as the diversity within their classroom. By researching, asking questions, and writing about what they learned creatively, they have an opportunity to share that history and culture with their classmates and their community.
Québec Entrepreneurship Contest
This contest recognizes students, citizens, entrepreneurs who MOBILIZE a large network of partners to PROMOTE entrepreneurial initiatives in order to INSPIRE more people to believe in themselves, to transform their ideas into action, and to achieve fulfillment. The contest is organized at three different levels: local, regional and provincial. The deadline is March 16th, 2015.


The Canadian Children's Book Centre

Writing Contest
  They give some very lucrative awards, and sponsor the Grade one book giveaway as well as publishing Canadian Children's Book News and
  Best Books for Kids and Teens. A great resource for parents, teachers, and creators. Click here for more contest details.


Poetry in Voice
This is a national poetry recitation contest for high school students in Canada that reinforces the importance of the spoken word, of how poetry is meant to be read ALOUD and to be heard. Founded by Scott Griffin (Griffin Trust for Excellence in Poetry), the competition begins in your classroom, expands to your school, and then on to the nationals. Follow their Twitter feed, which features a poem of the week and poetry news.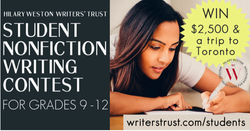 The Hilary Weston Writers' Trust Student Non-Fiction Writing Contest for Grades 9-12.
DEADLINE: MARCH 31, 2014


"

The Writers' Trust of Canada was founded by five notable Canadian authors — Margaret Atwood, Pierre Berton, Graeme Gibson, Margaret Laurence, and David Young — to encourage a flourishing writing community in this country."

Encourage students to participate, perhaps win a chance to get feedback on their work by famous Canadian authors!




The Royal Canadian Legion
The Legion sponsors a writing contest every year to raise awareness in students about the significance of Remembrance Day.


Young Writers of Canada


For over 20 years now, this contest has encouraged the art of poetry and writing for students aged 5-18. They publish an anthology of winning entries each year, giving students the opportunity to see their work in print as well as that of others their own age. Entries are reviewed by their editorial staff and the contests have always been FREE to enter. They contribute over $3500.00 worth of free anthologies to schools/libraries each year, and award over $10,000.00 in prizes annually.