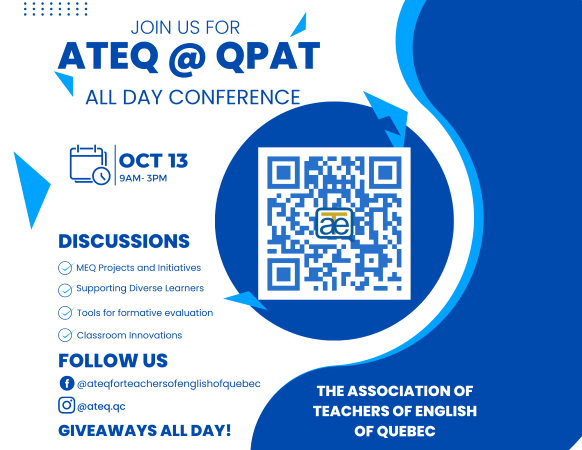 ATEQ @ QPAT 2022!
Join us on October 13th from 8:00 to 3:00 PM for ELA All Day: A workshop series to support ELA students in the classroom, a full day of workshops presented by and for teachers of ELA in Quebec. See info about specific workshops below!
Mobilizing ATEQ's grassroots partnerships and connections with people from different school boards, the MEQ, Vanier College, and McGill University, we will showcase projects, best practices and pedagogical tools, to inspire teachers from a variety of levels and backgrounds and continue to build a vibrant network of ELA educators across the province. To register, visit the QPAT website here.
with Melinda Clifford and Kathleen Murray
Join us for this interactive workshop to familiarize yourself with a curated selection of pedagogical tools, strategies, videos, infographics, blogs and much more to support ELA teachers in their practice. Looking for tools to support oracy, resources to support writing, or strategies to support reading? We've got you covered. Laptop or tablet required.
Melinda Clifford is the coordinator for the Elementary and Secondary English Language Arts programs at the MEQ. She is a mother to two wonderful children, a boisterous dog and one very snobby cat. She used to be a full-time classroom teacher and has managed to maintain her sanity and sense of humour.
Kathleen Murray is a consultant from LBPSB currently on a Loan of Service for the Elementary and Secondary English Language Arts programs at the MEQ. She has two wonderful teenage daughters and an oddly affectionate cat. She taught 17 years in an elementary setting. Her favorite mantra, borrowed from the Dalai Lama, has been and continues to be, "Be kind whenever possible. It is always possible."
Formative Assessment Continuums for ELA
with Anne Beamish and Stephanie McCully
Click here to access resources from Anne and Stephanie's session.
In this session, participants will explore recently developed formative assessment tools for Narrative and Informational writing. These tools, in the form of writing continuums, are ideal for tracking student progress at all Cycles (Elementary and Secondary). Both writing continuums are also accompanied by annotated student exemplars that demonstrate how they can be used to identify students' writing strengths and areas for improvement, as well as how they support providing students with directive feedback. The tools are rooted in the QEP's ELA curriculum and Progression of Learning and were inspired by the "Modes Scoring Guides" developed by Ruth Culham- author of 6 + 1 Traits of Writing. Participants will also get a preview of the Persuasive/Argumentative Writing Continuum Anne and Stephanie are currently developing.
Anne Beamish is an ELA Secondary Pedagogical Consultant for the English Montreal School Board. Stephanie McCully is an ELA Secondary and Elementary Pedagogical Consultant for the Eastern Townships School Board.
Neurodiversity in the Inclusive Classroom: Supporting diverse learners in the ELA classroom
with Tiffany Dickie
Click here to access resources from Tiffany's session.
In an environment of increasing student needs and decreasing support resources, teachers find themselves under more pressure than ever before to differentiate instruction and individualize learning. In this workshop, we will explore strategies and gain resources to support students with diverse needs in the three ELA competencies. We will also spend some time understanding the different learning challenges students face and how to implement the various accommodations found in Individualized Education Plans (IEPs). Focusing on ASD, ADHD, learning disabilities, social/ emotional learning and regulation, we will explore the best practices and their practical application in the classroom. All resources and strategies will be shared with participants.
Tiffany Dickie is a teacher in the Special Care Counselling program at Vanier College. She has worked as a secondary and adult education ELA teacher, with a particular focus in special education. She helps support her students both in the classroom and in the field as they train to become behaviour technicians in schools and residential care. Her areas of academic interest include authentic inclusive education and the development and modeling of anti-racist pedagogy.
Get students to read more and more meaningfully (in a practical, manageable, and trackable way)!
with Pamela Bussey and Kimberly Hardy
Click here to access resources from Pamela and Kimberly's session.
Feeling daunted by independent reading in your classroom? We get it! In this session, we'll go through how we encourage, organize, validate, and track students' independent reading in an ELA classroom.
Pamela and Kimberly will share their classroom systems for:
*organizing and showcasing classroom libraries
*tracking and validating students' reading engagement
*conferencing with students about their reading
Pamela Bussey and Kimberly Hardy teach at Chateauguay Valley Regional High School in Ormstown, Quebec. Pamela teaches grade 9 and 11 English and serves on ATEQ's board of directors. She's a reader who loves YA and memoir but struggles with long texts. She loves nothing more than getting to witness a 'non-reader' find a book they love (and then help them find another). Kimberly Hardy has taught grade 8 English and Math for 18 years and has now added grade 10 Cooking to her repertoire. New to her role this year, is working as a mentor to new teachers in the field. She's a reader who hates book clubs and loves giving kids the freedom to choose what they read.
The A5 Agenda: A Balanced Literacy Tool Created To Support Students' Learning, Differentiation And Conferencing.
with The Senior ELA EMSB Outreach Network PLC: Jessica Hand (Programme Mile End); Lise Kuhn (The Hub); Heather Morrison (Perpspectives II); Annelise Ogle (Outreach); and Ruwani Payoe (Programme Mile End)
Click here to access resources from the Outreach Network PLC's session.
The Advanced 5 has provided a really helpful balanced literacy model for the differentiation needed for teaching language arts effectively in an Outreach context. We found, however, that it was really difficult to keep track of our teaching and student progress when using this model. In this session, we will share the agenda we developed to anchor and track our A5 teaching in students' individual process and progress. (You will, hopefully, leave this session with ideas and materials that can support more differentiated learning and help you to set goals and track learning more effectively.)
Innovative Assessment
with Christina Grivas
Click here to access resources from Christina's session.
Looking for new ideas to move away from traditional evaluations and tests about literacy? This workshop will share some alternative approaches to assessment and the rationale behind it. The presentation will provide ready to use successful examples of assignments and projects that evaluate all three competencies and also help reduce the number of evaluations in a creative and innovative way.
Christina Grivas has been teaching ELA at the secondary level for the past 31 years in both the public and private sectors, but has found her home at West Island College for the last 19.